Background Noise Sound Pack
"Background Noise Sound Pack"
Free Sound Pack by Orange Free Sounds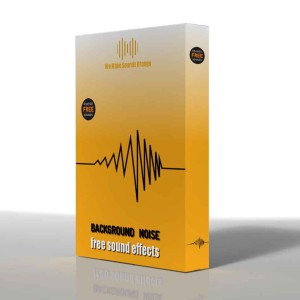 "Background Noise Sounds Pack"

Description
We produced again a completely new Free Sound Pack in WAV format –  as the rest of OFS Sound Packs
This time we can start it as a riddle:
What is it:  always present during day & night, summer & winter, in the city as well as in the nature …. and you cannot see it?
It is Background Noise.
Background Noise or Ambient Sounds – we mostly don't pay attention to it but still it's surrounding us,  at home,  at work …everywhere.
It can be natural, artificial, pleasant or less pleasant. Sometimes even called "Noise pollution".
In "Background Noise" OFS Sound Pack we tried to make it almost like "relaxing sounds".
Noise pollution – well, we'll take care about it in some of future Sound Packs.
Content
Birds Noise
Cricket Noise
Fan Noise
Fridge Noise
Talking People Noise
Police Siren Noise
Rain Noise
Sea Waves Noise
Street Noise
Thunder And Wind Noise
Water Stream Noise
How you can use it?
We suppose in:
– video production
– video games
– musical production
– for educational purposes
…or just for fun
Anyway, as usually in OFS Sound Packs, all sounds are in high quality WAV format and free for commercial & non – commercial use (under Licensing Terms below).
Recording Equipment
Zoom H5 Handy Recorder and Yamaha POCKETRACK C24 portable digital recorder
Technical details
Author: Orange Free Sounds
Inside "Background Noise Sound Pack": 11 sounds in total
Quality: WAV 41,000 hertz, 16 bit samples
Length: 21,59.minutes
Size: 185,94 Mb
Licensing Terms
Free for Commercial Use under following terms:
If you use materials from sound pack in your commercial / non-commercial projects, set a proper backlink either to Orange Free Sounds or to this post
Publishing or hosting this Sound Pack in whole on other websites and internet is not allowed.
Changing Orange Free Sounds original download link to other websites (redirecting download to other websites) is not allowed.
Notice
Download is completely free from Orange Free Sounds website – no need for additional registration. Sound pack is in .ZIP format, so you will need software like WinZip, WinRar or free 7-Zip to unpack and use it.
Enjoy!
Orange Free Sounds (OFS)
Short demo of sounds included in Sound Pack