Creepy Doll Music Box
"Creepy Doll Music Box"
Free Halloween Edition Sound Pack by Orange Free Sounds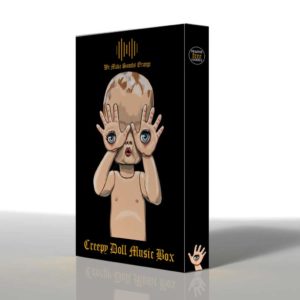 "Creepy Doll Music Box"
-Free Halloween Edition Sound Pack by Orange Free Sounds-
Design: Sanja Postic and Mileta Postic
Description
In almost every attic or cellar in the world there are objects from one's childhood, like toys, dolls, music boxes….
Long time forgotten, abandoned, covered with dust… they also keep some kind of memories of previous life, when they had been almost alive, loved and cared of.
There are also times of the year, like Halloween, when you should not visit such places.
We did, and in a dusty corner there was a doll and a music box.
Nobody touched anything, all of a sudden the music box started playing a melody and…. the rest is recorded below, though some other strange things could not be recorded.
Again, some dolls just don't want to be forgotten, some music boxes has strange eternal melodies lasting forever.
Welcome to
Creepy Doll Music Box
01 – Memory No1: The Cot – 3:03
02 – Nursery – 2:06
03 – Childhood – 1:26
04 – My First Doll – 1:56
05 – Weird Dance – 1:07

06 – The Doll's Shadow – 1:28
07 – The Dark Place – 1:29
08 – Memory Everlasting: The Attic – 1:04

Technical details
Author: Orange Free Sounds
Inside "Creepy Doll Music Box": 8 files in total
Quality: MP3 – 320 Kbps, WAV – 41,000 hertz, 16 bit
Length: 13:43 minutes
Size: MP3: 30,17 Mb, WAV: 131 Mb
Notice: You can choose MP3 (smaller size) or WAV download
Licensing Terms

Free for Commercial Use under following terms:
If you use materials from sound pack in your commercial / non-commercial projects, set a proper back link either to Orange Free Sounds or to this post.
Publishing or hosting this Sound Pack in whole on other websites and internet is not allowed.
Changing Orange Free Sounds original download link to other websites (redirecting download to other websites) is not allowed.
Notice
Download is completely free from Orange Free Sounds website – no need for additional registration. Sound Collection is in .ZIP format, so you will need software like WinZip, WinRar or free 7-Zip to unpack and use it.
Enjoy!
Orange Free Sounds (OFS)
Short demo of sounds included in pack